---
Today's email said:
Tomorrow:
We have the full Moon exact at 4:37 am Eastern, and it is the closest full moon of the year. So this could be a day with energy higher than forecast by the MoonTides.
If you look at today's chart, you see two roads-Moon flux going up and Moon flux going down. Prices congested between the two all day, but chose the high road late in the day. Overnight, the Moon squares Saturn as it opposes the sun, making 1112 +/- multiples of 18 points and +/-multiples of 12 points key price levels. Others are circled on the chart. Another key price is 1122, which is the next corner up on the hex pattern seen several times today.
Times: 10:10, 12:00, 2:00, 3:30
Strategy: Buy dips toward a rising 110 EXMA near 10:00 and/or 12:00 if prices hold above 1107
1ADay tactics:
1. Watch for the opportunity to buy during a dip of the 20 EXMA toward a rising EXMA to come near 10:00. If it sets up then and prices hold 1107 or better, the trade is on. If not, watch for a tradable dip near 12:00. Prices should hold above the 110 EXMA and it should be rising, or curl up from a flat position. The 20 minute EXMA should have crossed the 110, or dipped toward it and then pulled away from it. When this setup is clear, enter with a 3 point stop.
2. Move the stop 1 point each 30 minutes.
3. Cover on a 6 point gain, or at 12:00 for an entry near 10:00, or 2:00 for an entry near 12:00, or if the range reaches 17 points.
The dip near 10:10 came as forecast and was successful. The chart is annotated with the events as they unfolded in real time.
---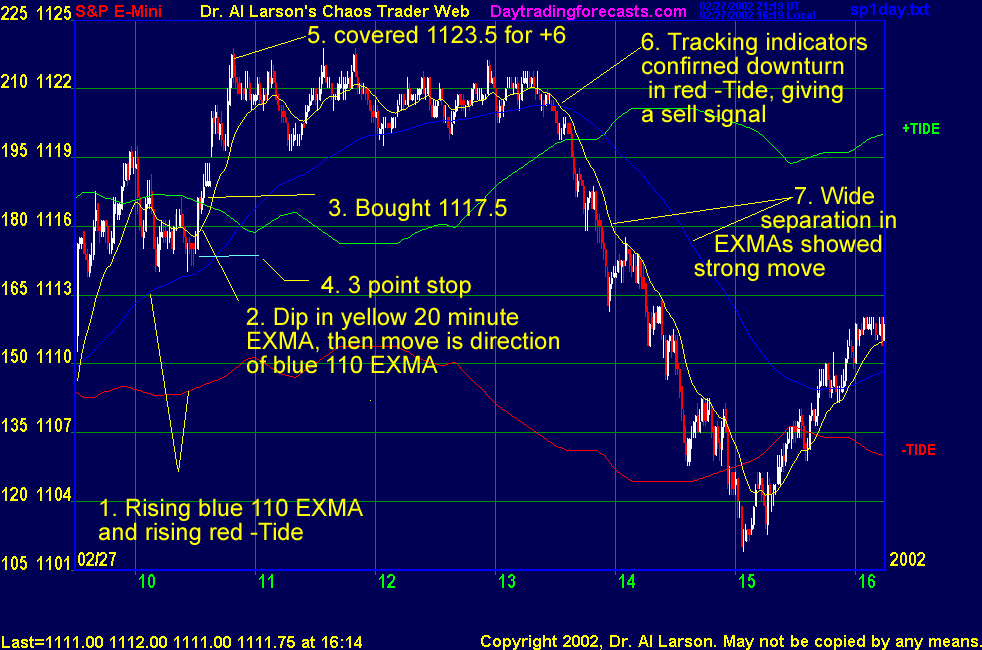 This setup was almost exactly as outlined, and looks easy in hindsight.
The second turn near 12:00 developed slowly, as people waited for Greenspan to say he would rescue them. So the red -Tide shifted right about an hour. But our 110/20 tracking system showed us where the turn was, and a trade make off it was even better than the 1ADay.
---
---
[ Home ]
[ ListOfCharts ]
[ Chaos Clinic ]
[ SPKISS ]
[ Wheel ]
[ SP1Day ]
[ SPBias ]
[ XTide2Plus ]
[ MTRainbow ]
[ Aspects ]
[ Aux ]
[ Alert ]
[ Chat ]