---
Today's email said:
Strategy: Go with the flow coming out of the 1:40 Tide turn
1ADay tactics:
1. Watch for the opportunity to go with the trend coming out of the 1:40 timeframe. Plan to trade in the direction of the 110 EXMA.Prices should stay on one side of the 110 EXMA and it should be moving, or curl up or down from a flat position. The 20 minute EXMA should have crossed the 110, or dipped toward it and then pulled away from it. When this setup is clear, enter in the direction of the 110 EXMA with a 3 point stop.
2. Move the stop 1 point each 30 minutes.
3. Cover on a 6 point gain, or at 3:30, or if the range reaches 17 points.
The chart is annotated with the events as they unfolded in real time.
---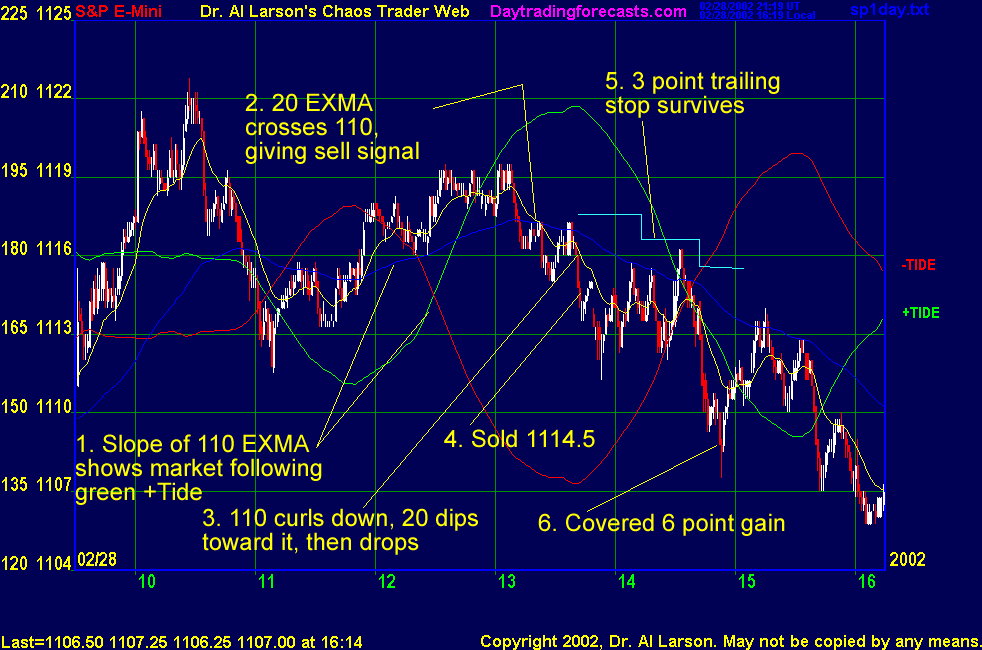 This trade nearly failed, and might have for a different entry price. But for the way I did it, it worked. The forecast, planning, tracking, and execution all worked.
---
---
[ Home ]
[ ListOfCharts ]
[ Chaos Clinic ]
[ SPKISS ]
[ Wheel ]
[ SP1Day ]
[ SPBias ]
[ XTide2Plus ]
[ MTRainbow ]
[ Aspects ]
[ Aux ]
[ Alert ]
[ Chat ]