Taming the Fed With XGO
---
November 1, 2007
---
This is a note on how I used an XGO forecast to play the recent Federal Reserve rate cut.

My interest in doing a swing trade started on October 19th, 20 years from the Crash of 1987. That was a nasty down day, which was bigger than I expected - a real "blood in the streets" day. So I began looking for a low.

My tool for this was an XGO energy forecast for the S&P. (see Moneytide.com for more on XGO ) This forecast is crude, in that it only computes one energy point per day, at noon. It is most useful for position trading. For studying its usefulness for swing trading, I created a file that interpolates the XGO data in one minute steps. I have found that this forecast usually has about a 3 day lag, but has a jitter that can be up to 1.5 days. What it does best is forecast big changes in energy over the next week to 10 days.

So when I began looking for a low, I saw that XGO had a forecast low on the 25th. Then I realized that was just 5 days before the Federal Reserve meeting. So I began looking for signs of a low on the 24th. Late in the day, I saw that the market was making a higher low, and that the slope of the decline was about the same as the slope of the forecast.

At that point I looked for a cheap out of the money OEX call. I found a November 735 for $1.65, or a risk of $ 165 per option. I figured that even if the low was on the 25th, the trade might work. Option purchase trades are difficult, because the time premium works against you. So you need a big, fast price change for the trade to work. I figured that a switch from despair to hope that the Fed would fix everything would trigger the rally that the XGO was forecasting.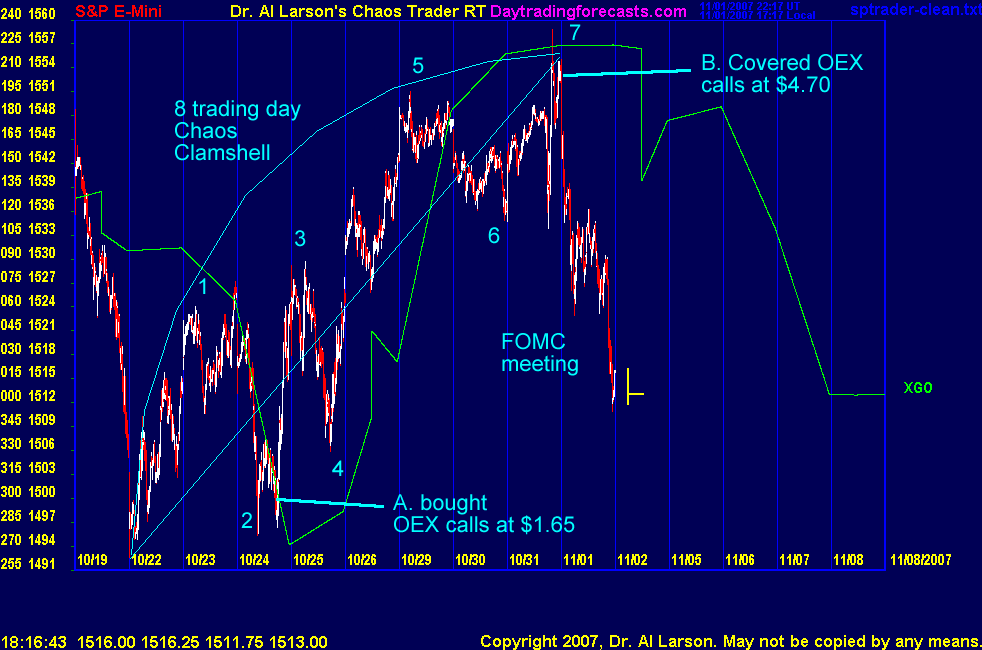 I was pleasantly surprised that the switch came within an hour of my option buy. Then all I had to do was wait.
On the 31st - fittingly Halloween - the Fed did cut rates, by a quarter point. The market reacted with a drop, and a rally. On the rally, I covered my calls. The XGO forecast showed no higher prices, and the news was out. I did not want to hold any longer, because the premium decay was working against me. I also recognized a nice 8 day up Chaos Clamshell. No need to wait. Cash In On Chaos! As it turned out, it was a great exit, since today was hard down.
I don't always make trades this good. But this one was very good, and worth sharing for the educational value. Now that I am semi-retired, I did not try to tell others about my trade strategy, but I did post the XGO swing chart in the Certified Chaos Traders room last week, and on the 24th I posted it on the AUX page, and pointed it out in the chat room. Astute, serious traders could have done what I did. If you missed the opportunity, no problem. There are more coming. Be prepared.
As always, knowledge gives you an edge in trading.
P. S. Individual XGO charts can be ordered at Moneytide.com
---